An important aspect of the general running of a home is maintaining an efficient heating and cooling system to keep the place comfortable whatever the weather outside is doing.

In this sub-category of the House and Home section of the website, I'll be looking at a variety of solutions to maintain an even temperature indoors. That will entail covering heaters and coolers alike.
Keeping Warm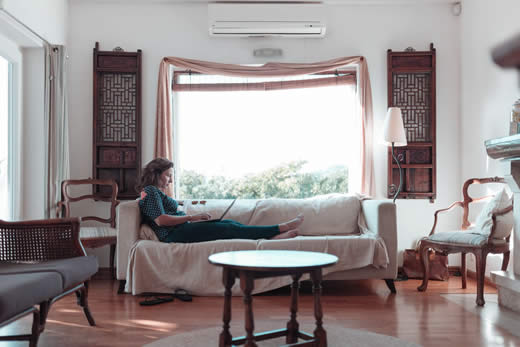 There is little that can match the sheer satisfaction of coming home out of the freezing cold winter weather into a warm, cozy and inviting home.

Just feeling the warmth dispel the chill from outside as you take off your big coat and scarf by the front door and head for your favorite chair or couch is a sensation worth waiting for.

Knowing that no matter what happens, your home will always be a warm haven from the chilly weather is true peace of mind. You can have that because you invested in a quality heating system that not only works efficiently, it also works economically to save you money over other, less efficient systems.
Keeping Cool
In summer, the reverse is often the case when the weather is concerned and you no longer need the services of your heating system, but instead a system that will prevent you from getting uncomfortably hot!

Modern air conditioning equipment is a lot more efficient than older versions with ozone-friendly refrigerant and a more efficient cooling process to reduce energy consumption and save you money.

There are several heating and cooling solutions available that are suited to different types of home, from the smallest city apartment right up to the larger family suburban home and even off-grid dwellings. Which you choose for your home should match its size, condition and location as well as your budget.
Whole House or Zoned Climate Control?
What format of heating and/or cooling solution does your home have? Are you considering upgrading it to brand new equipment?

If you need some guidance as to which format may be best for your home or budget situation, I'll look at what is available from top to bottom.
Central Systems
For the more generous budget and larger size of building, a central HVAC (Heating, Ventilation and Air Conditioning) system is usually the preferred solution for maintaining the indoor climate at the level you choose. This provides a central point for producing the heat or chilled air that distributes it throughout the entire building via ducting for all-air systems or AC ducts plus heating radiators for mixed systems.

Central systems have the advantage of being more powerful than distributed systems and better able to maintain a building-wide temperature that can be set via a central thermostat.

However, this advantage can also be regarded as its downfall in certain situations.

Unless every room in the house is actually occupied by people, the problem of efficiency crops up. This occurs where there are unoccupied rooms being cooled (or heated), which still uses energy that is ultimately wasted.
Distributed Systems
A distributed system manages this problem perfectly. It wins by the individual equipment only being turned on to maintain the temperature in rooms that are occupied, as long as the occupant(s) remembers to turn the heating/cooling unit off when they leave the room.

You can have a single-room device that can act as a heater and/or air conditioner all in the same housing to keep things simple and neat. The fixed variety of these that are commonly seen installed high up on a wall are generally known as mini-split air conditioners with a heat pump.

Smaller window installed units can also provide the same service, while you can also get portable units that provide cool or hot air as you need it.

There are several types of distributed or zone systems for heating and cooling available. I'll look at these individually in related articles that I'll post below.
Pages in this Subcategory:
Below is a list of article titles for pages published in this Heating and Cooling subcategory of House & Garden: