There are lots of great ideas to be considered when designing or remodeling a bathroom shower enclosure the way you want it.

Here are some that you might find useful or even downright perfect for your needs.

First of all, let's look at the merits of installing a corner shower stall.
Benefits of Corner Showers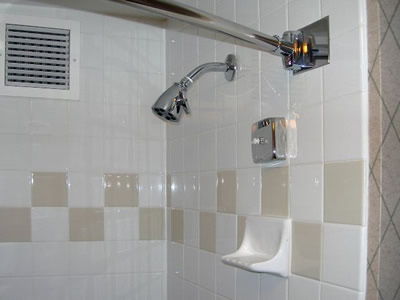 The main benefit of a corner shower is how efficiently floor space is utilized. If you have a large master bathroom it will allow you to install both a shower and a bathtub. In a smaller bathroom where every inch counts, you will avoid a room that seems excessively cramped.

There are however, several other benefits that can be had by choosing this option:
Large Selection of Designs Available
If you settle on installing a corner shower unit, you will simply be spoiled for choices. First of all, you can choose between a traditional solid shower or a shower using a curtain. If you pick the first option, you can choose between an overwhelming selection of corner shower doors, enclosures, and bases.

If you want your bathroom to appear larger, install a transparent unit. If you prefer a high degree of privacy, install a unit using frosted glass.

Do you prefer a simple design? It might be a great idea to choose a smooth texture. Or, if you prefer a more intricate look, go with glass that has an etched, decorative pattern. The list of possibilities can be endless!
Good Solution if You Are on a Tight Budget
Another benefit of corner showers is the fact that you can choose to use a shower rod and a curtain for a very cheap solution. If you are on a fairly tight budget, the money for a bathtub simply might not be there.
Do You Have Trouble Getting In and Out of a Bathtub?
For elderly or disabled people, getting in and out of a traditional bathtub can be a real struggle. In such cases, installing a corner shower is preferable.

Getting in and out is a breeze, and will make everyday life much easier. Additionally, the sides of the shower can be fitted with handrails suitable for support.

As you can tell, installing a corner shower unit offers a large range of benefits in a lot of different situations. But what about the medium for the walls?
Designing a Shower with Slate Tile
Redesigning a bathroom shower and/or tub surround can be a painful process. There are many choices of porcelain and ceramic tile as well as numerous choices of natural stone.

Recently, the market has been flooded with stone and onyx mosaics of all shapes and sizes, just to make things more complicated than they probably need to be.

Slate tile flooring has always been a favorite material of mine, traditional multi-colored slate in particular. I have used it on patio decks, fireplace surrounds, pool decks, backsplashes and some interior floors.
Go With the Standard
Cleft slate is the standard slate that most people think of. It has uneven surface texture and can vary in height from one tile to the other. But, there are other types of slate tiles, such as Indian autumn slate, raja, and silver quartz, among others.

It is an excellent material as well for a shower or tub surround as long as you keep in mind a few key things. The material is natural stone, therefore, it needs to be sealed and maintained so that mold, mildew, and stains do not penetrate.

Cleft slate is has a very rough surface which would be great for a shower floor, but can be a bear to keep clean on a shower wall. I would choose a smooth, non cleft slate for the walls, it would be much easier to clean and maintain.

Understand that if you purchase the same color slate, one cleft and one not cleft, they will look completely different.

Always take some water and put it on the slate before you buy it, this will simulate the tile being sealed. The appearance of stone when it is sealed can vary quite a bit from its unsealed counterpart.

A penetrating sealer will work fine, unless you want a wetter, deeper look. In that case you should use a sealer and enhancer.

To sum it up, a slate tile shower is very versatile, very hard, and extremely beautiful. Regardless of the type of slate you use, it will give your shower a very handsome natural feel.
A Travertine Shower
A very popular stone for shower tiles is travertine. Travertine tiles have been used for centuries by people in Rome and its surrounding areas.

In fact, the Roman coliseum is not constructed of marble like most people suspect. In fact it is actually almost completely made of travertine stones quarried about 60 miles from the city.

Travertine is a sedimentary rock which means it is not as dense as a metamorphosed rock like marble. This lightness makes it much easier to attach to wall surfaces as it is not as heavy as other stone tiles and thus does not need as much support.

The lightness is obtained by the voids and air pockets which can be found throughout the stone. These give a very interesting 3-D effect when the tile is laid but this can lead to further problems.
Design Tips
Since the rock has voids it tends to be porous to water. It also will have divits on its face which must be filled for the tile to be smooth. This porosity necessitates the addition of a sealant over surface if the tiles will come into contact with water.

Therefore if you are constructing a travertine shower be sure to seal the ceiling, walls, and floor before allowing any water onto the stone. If the tiles get wet then you will need to let them completely dry before sealing.

These stones are usually colored as earth tones of the brown shade. Beige, tan, light red, and dark brown are very popular colors. Flecks of more electric colors can also be found depending on the minerals present when the sediment was lain down.

In some instances two or more shades of the tiles will be used to give a really nice complimentary accent. For example, the majority of the shower may be composed of a darker tile with the trim being a light color. Or perhaps the other way around for an inverse affect.

If you are looking for a very elegant yet simple tile for your bathroom then you can't go wrong with travertine.

So there are a few ideas that you can get started in right away. The more options that you have at your fingertips, the better the chance you will come up with a design that really suits what you have in mind for your own shower enclosure that will look spectacular.