A combination grill, griddle and panini press, the griddler is an innovative and versatile kitchen appliance with a multitude of cooking uses and applications.

From cooking steaks, hamburgers, sausages and other barbecue favorites indoors to grilling cheese and making delicious grilled sandwiches, this marvellous device combines all these uses into a single device.

While it is certainly possible to live without one of these and cook everything in pots and pans, the grill and oven, owning one can save a lot of work and cleaning up afterwards. This article takes a look at what I have come to believe is one of the best ″Griddlers″ that is currently available.


Cuisinart GR-4N 5-in-1 Griddler Review
People can read this review of the Cuisinart Griddler and find out what makes this small 5-in-1 cooking appliance such a great time saving and labor saving piece of equipment that every kitchen should have!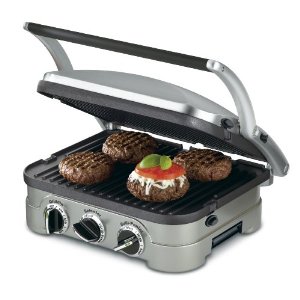 You can learn how this will make your life so much more complete and really enhance your eating experience with so many new and exciting ways to cook some great tasting snacks, breakfasts and meals with this amazing machine! Go ahead and treat yourself to this great eating experience when you go ahead and buy one at a really great discount price from one of the most trusted and respected online sellers, Amazon.

You can learn more about this amazing grill/griddle by simply clicking the image to the left!
What is the Cuisinart 5-in-1 Griddler?
To explain to you what it is, we first should tell you what it is not. This is no glorified grilled sandwich maker, but a good sized grill/griddle that has five different functions all rolled into one.

This amazing compact cooking machine can double as a closing Panini grill for making hot sandwiches or it can be opened up and used with a grill plate or a griddle plate each or which doubles its cooking surface. It can also be used with a half size grill and griddle plate for making all kinds of tasty meals easily and in less time than conventional methods.

When opened up fully, its large 200 square inch cooking surface can easily deal with full size meals from grilled meats to fish and barbecue style vegetables, while in the hinged position it can make grilled sandwiches and quesadillas. It can also be used as a full griddle for cooking eggs and pancakes as well as bacon, hamburgers, hash browns and all your best loved breakfast foods.

Used as a half grill, half griddle formation, you can cook eggs or pancakes on one side alongside your favorite hamburgers or sausages on the other. It is really versatile yet extremely easy to use.
How Does the Cuisinart 5-in-1 Griddler Work?
This great Cuisinart Griddler is five appliances all in one. Here is how it works:

With its hinged, floating cover plus its set of removable as well as reversible cooking plates, the Griddler can be turned into a fully functional contact grill, a Panini press for making toasted or grilled sandwiches etc, a full grill, a full griddle. Or it can simply be used as a half grill or half griddle.

It utilizes dual temperature controls and incorporates indicator lights to make the appliance very easy to use. It has dishwasher-safe parts including the plates, its integrated drip tray and the cleaning/scraping tool that come with the unit, making clean-up about as fast and easy as can possibly be.
Features
5-in-1 counter top unit works as a:
Contact grill
Full griddle
Full grill
Panini press
Half grill/half griddle
Sturdy Panini-style handle
Brushed stainless-steel housing
floating cover to adjust to thickness of food
integrated drip tray
Removable and reversible nonstick cooking plates drain grease for healthy cooking
Adjustable temperature controls with indicator lights
Plates, drip tray, and scraper are all dishwasher safe
gourmet recipes and scraping tool included
3-year limited warranty
Buy the Cuisinart Griddler
If you think this product is a great small appliance that will really enhance your life in many ways, you can easily buy this amazing cooking aid online at a great discount and get free shipping right now from Amazon, the online store that is best loved and trusted of all.

All you do is simply click your mouse on the link below to get more details on how you can soon be the happy owner of this great value for money and really useful appliance:

PS: Maybe you don't believe you really need this useful, compact cooking appliance to make your life just that little bit easier in the kitchen. That's fine, although I bet you're really secretly dying to try it out for yourself, aren't you?

Well, strike while the iron is hot! The product is on sale at a discounted price right now so click the image link above and visit that page at Amazon to find out just how much you can save if you buy one now. Really!

You're going to kick yourself if you miss out on the great deal they are offering, so don't miss out on what others are enjoying. Get one for yourself and you'll see what I mean by how useful and downright easy to use it is!

[BACK TO TOP]