In the day to day running of the home, the kitchen plays a vitally important role in maintaining family cohesion through the meals prepared and cooked there.

In this section of the Home and Garden category, I take a look at the many ways the kitchen stamps its authority on home life by the way in which it is used.
Preparing and Cooking Meals
Everybody has to eat, however frequently that may be depending on personal preference and the kitchen is where the food action happens.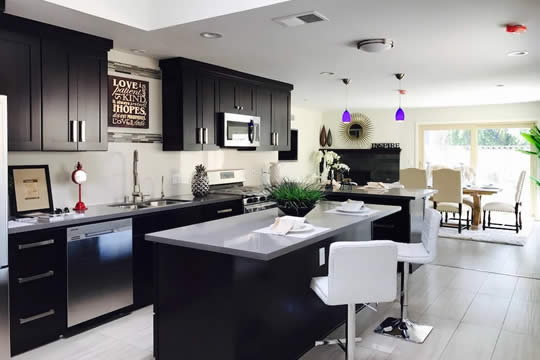 Whether you are a culinary stickler for all things healthy and wholesome or just the opposite and view the transfer of a package of something resembling food from the freezer to the microwave to your plate the way to live, it all happens in that most functional of rooms in the house.

Some of us like to make all our meals from scratch using only whole ingredients and using only basic utensils like a sharp knife, a chopping board and a pot or a pan to cook the prepared result in. Others prefer to use other appliances to reduce the labor time and effort, such as mixers, blenders, food processors etc.

However you like to prep food, there is a right way and a wrong way depending on your personal preference. However, as long as the job gets done and the food makes it in a healthy and presentable state onto your dinner plate, the right way is your way!
Kitchen Store
While I'm on the subject of kitchens, I feel it is a good idea to welcome you to the Bake Radio Kitchen Store. This is where I take a closer look at some of the essential appliances and labor-saving devices that help to create a more efficient and effective cooking and food preparation environment.!

For your information, I have created a set of kitchen cookware and appliance reviews of products that that you can buy online, in some cases at discount rates that we have obtained from the vendors that these products are sourced from.

These products may be sourced from top online stores like Amazon or another of the major online domestic kitchen retailers who produce special lines of products that you can't get anywhere else.

The reason for this is to make it easy for the visitor to see at a glance what I consider to be the best choices for a wide range of kitchen related goods.

The idea is to save you time that you would otherwise have to spend searching through one of the major search engines to find legitimate stores and then compare them. It's my way of helping you to find the best deals (including shipping), because some of these stores include free or next day shipping in with their sales package.

So by all means have a look around and use the navigation list at the end of the page to find specific product pages where we also provide our own review as well as details on how to get the best discounted prices online.

On this page we will, from time to time put up some of our most highly recommended products that are currently selling fast and are very popular.

We will not always be able to include the vendor's price in our publications as in some cases that is against their TOS. Also, as some vendors discount their prices, these may fluctuate depending on stock levels and availability. So if you don't see a published price, click the link we provide to see the vendor's current best price.

We have already included some kitchen appliances that might be of interest to you and written reviews of them so you can see what they are all about and whether they might be something that you might consider adding to your kitchen's itinerary. Here is what we have so far:
This is a really useful grill, griddle, indoor barbecue and toasted sandwich maker all in one compact, handy device. It is great for cooking up some creative, tasty breakfasts, lunches and snacks and is a great time saver while being easy to clean up after use.

Check out our review by clicking the link in the subtitle above!
If you do a lot of chopping and blending in your kitchen, then this tool will save you so much time it pays for itself in giving you back your free time. It can blitz ingredients together in a jiffy and is real easy to clean after. Read our review and see for yourself!
sing a slow cooker is not only great for saving on power bills, but it also is a great way to cook food by locking the flavor in while cooking the food for long periods of time to make everything come out as tender as it can be, while still retaining its fullest flavor. Our reviews explains it even better than that!
If keeping healthy and watching your physical weight is important to you, and it should be, then this digital scale is a must have for your kitchen.

It tells you what nutrients and the chemical makeup of the food you weigh while telling you how many calories is in a certain size portion per weight is in the food you are going to use in your cooking and other information that is useful to know. This is another must have gadget for improving your understanding of what is in the food you are eating.
If you like snacks and you really like popcorn but you don't like the hassle and mess of making it yourself, this machine is the perfect thing for you.

It makes "clean" popcorn with no grease, mess or piles of un-popped kernels lying at the bottom of the pan! Plus it makes a ton of the stuff real fast, which is great if you have some guests round and need something to keep them snacked up!
There's something about the aroma of freshly ground roasted coffee beans that are being made into the most authentic, real tasting coffee you can get. Well, you used to only be able to get this stuff in a coffee shop or cafe, but now you can get it at home in the easiest and quickest way possible.

This great coffee grinder has it all! It has a special glass grounds catcher that doesn't suffer from the static that plastic catchers get and make a mess all over your work top, so you get a clean grind and no mess! Its fast, grinds the perfect coarseness to suit your coffee maker and its pretty quiet about it too!

There are many great small appliances that can boost the efficiency of your kitchen and we'll be adding more as we go.
Pages in this Subcategory:
Below is a list of article titles for pages in this subcategory of House & Garden: