If you're searching for a good quality, inexpensive office chair that's robust and comfortable, the Eliza Tinsley Wellington reviewed here is perfect. With plenty of positive things going for it, I'm sure you'll want to get one of these for yourself after reading this.

Finding a really good chair to use at a computer desk in a home or commercial office that you're going to be spending several hours every day sat in is not always easy. There are plenty of chairs on the market, but which ones are good for what you want them for and which ones are not?

Note: As an Amazon Associate I earn from qualifying purchases.
Why You Will Want One
Looks great in black PU leather
Soft and deep cushioning is comfortable while correctly supporting the back and arms
Sturdy and solid
Swivels, tilts and raises/lowers for optimum sitting position
Exceptional value for money
Ergonomic and Comfortable
With several key areas that must be satisfied before a chair can be said to be "good" one of the most important is comfort and support.

After all, when you're likely to spend 8 hours or more sitting in it day after day, anything that is remotely uncomfortable or that cannot provide adequate back and arm support must be rejected right away.

Bad sitting posture and lack of proper support can lead to many problems including back pain, neck pain, headaches and tiredness so getting this part right is so important. This chair from Eliza Tinsley fulfils those first two essential criteria perfectly and this is no idle conjecture, I'm actually sitting in one as I type this!
Robust and Hard Wearing
This chair feels strong and solid as I sit upright typing at my computer. It also feels sturdy and safe as I recline back while taking a break from typing (something people doing my job tend to do regularly).

A flimsy chair is one that will not last very long under the tough usage it will get from someone like me!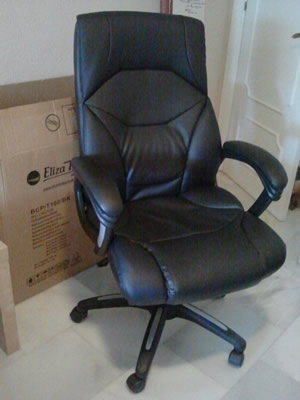 I'm not particularly heavy at around 165 pounds (75kg) and 5'8" (1.74m) but I do spend a lot of time at the computer every day so the chair must be able to take lots of punishment.

So far, this one is managing very well indeed.
Cost and Value for Money
Right now this model is on sale at a very affordable price online from Amazon. I can't quote the exact price as it may fluctuate, but it is in my opinion very low for the quality and comfort this chair has in my nicely heated and cooled, dedicated home office.

You can take a closer look and get the current price by visiting the relevant page at Amazon by clicking the link or the image above (it will open in a new tab for your convenience). If you want it, grab it before the price goes up!

Please note this is currently only available from the amazon.co.uk website, although it does ship to mainland Europe.

Below is a short video I shot of the chair being assembled so you can see how easy it is, contrary to what some of the reviewers wrote about it being difficult to do. I found it really easy and to prove it, I uploaded the video to Youtube so you can see for yourself below: