When you need a real change from that heavy, bulky old vacuum with the wire you keep tripping over, read this Dyson V7 cordless stick vacuum cleaner review now for a solution to your cleaning problem!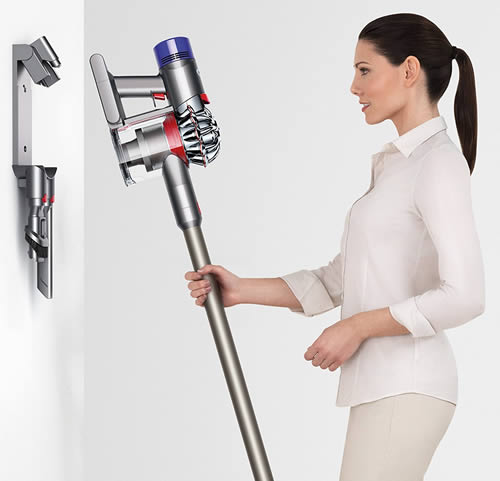 This ergonomically designed, cord free cleaner is powered by Dyson's digital motor V7 with its 2 tier radial cyclones.

It gives you up to 30 minutes of fade-free suction power with two power modes for all kinds of cleaning instances.
Reaches Almost Everywhere
The cleaner can easily reach up high to get at those annoying cobwebs up there in the corner.

It can also be quickly transformed into a handheld cleaner for cleaning upholstery, sofas, chairs and even the inside of your car!

If you hated the idea of emptying that old dusty bag in your old vacuum, this one from Dyson is bag-free.

The plastic hygienic bin is easy to empty without having to touch any of the dirt it captures.

Note: As an Amazon Associate I earn from qualifying purchases.
Plenty of Tools
Note: As an Amazon Associate I earn from qualifying purchases.

There is a handy wall docking station for easy and quick storage. The following tools are included:
A direct drive cleaner head
A soft dusting brush (perfect for cleaning electrical equipment and computers/keyboards etc)
A quick-release combination tool
A quick-release crevice tool for getting into those really tight places
A mini motorized brush head tool
This vacuum cleaner is everything that it's advertised as. Versatile and easy to use, it quickly transforms to a short-poled handheld from its long-poled normal configuration (as pictured) when you need to clean furniture and upholstery.
What Can it Do?
It vacuums and picks up dust, hairs and a variety of trash amazingly well. Since it actually runs only when the trigger is pulled, you don't waste battery life when moving from room to room. It charges really fast, too.

It weighs a mere 5.3 pounds making it a breeze to run around the house with the freedom on not having to contend with a power cord. There's easily enough battery life for 30 minutes running in normal power mode to take care of around 2,000 sq ft all in one go, making multiple stops to empty the dust collection bin.

Interestingly, the way you empty the collection bin has been greatly improved over older Dysons. It's very easy and fast with minimum mess as long as you remember to hold it right above the center of the garbage bin.

The attachment for stairs is excellent for cleaning up or down quickly and it really is so easy to use when compared to the older, heavier corded vacuums. It works equally well on hardwood floors and carpet, making for a versatile cleaning tool.

This model gets under most kinds of furniture and glides easily between chair legs and in and out of tight spaces. It is so light, manuveurable and easy to empty a lot of users are all saying that it's really worth the surprisingly low price!

Here's a short video I had made to show it off a little better:
How Much Do You Want One Now?
I'll be very surprised if you do not want to buy this Dyson for yourself right now! It is such a vast improvement on older, heavier, corded vacuums that you used to spend ages fighting with and getting tangled up in the cord.

At the price it is currently on sale at, it really is a steal!

How much is it? I'm not telling. You'll have to click the image link above and visit Amazon to find out!

[BACK TO TOP]